Wednesday 28 September 2022 (UAE)
Dubai Metro
Coronavirus in the UAE: Some information on this website is out of date as a result of measures taken in the UAE to deal with the coronavirus crisis. Confirm with official or authoritative sources.
Dubai Metro Mass Transit public transport system
Dubai Metro information
The Dubai Metro (previously known as the Dubai Light Rail Transport DLRT, or Metro Dubai project) is Dubai's version of the London Underground, New York Subway, Vienna U-Bahn, Munich S-Bahn, or various other mass-transit system. The metro operates both above ground and below ground with RTA feeder buses ferrying passengers to metro stations to provide a cheap and efficient public transport system for Dubai residents and visitors. Launch date of the Dubai Metro Red Line was 09 September 2009 (09-09-09) for some stations with the remainder opening in 2010, and for the Dubai Metro Green Line was March ... June ... October ... November 2010 ... August 2011 ... 10 September 2011.
The Dubai Metro is the first public transportation system of this type in the UAE and the Middle East. Sort of. The Jumeirah Palm Island monorail was the first to start operating in May 2009 (and Emirates Airlines apparently has a monorail shifting food around in their catering facility). One major feature of the Dubai Metro is that the trains are driverless (resulting in lots of tourist photos of visitors at the front of the train going "Wheeeeeeeeeee!").
Dubai Metro operating times
Last train starts one hour before closing time, one at each end of each line, so adjust your sprint to the station cut-off time accordingly.
Express trains operate on the Red Line at 0530 and 0540, stopping at a limited number of stations. Normal service starts at 0550.
Train frequency increases during peak hours.
During Eid and other special holidays, metro finish timings are usually extended by an hour or two. Sometimes if holiday is on a Friday, start time is 0600 or 0900, and for New Years Eve the metro is extended until early morning or 24 hours.
2013 New Years Eve timings: 0530 to midnight on 31 Dec 2013, and 24 hours midnight 31 Dec 2013 to midnight 01 Jan 2014. From 1600 on 31 Dec 2013 to 1600 on 01 Jan 2014 metro trains will operate a "skip-stop" system meaning each train will only stop at one of the three stations near Burj Khalifa Downtown Dubai - Business Bay MS, Burj Khalifa Dubai Mall MS, and Financial Center MS, and skip the other two according to the RTA announcement (some newspapers incorrectly reported that the metro would only operate at those three stations). Expect mad queues and congestion from about 10pm to 2am on New Year's Eve, even if just trying to cross Sheikh Zayed Road using the pedestrian walkways around Downtown Dubai metro stations.
| | Saturday-Wednesday | Thursday | Friday |
| --- | --- | --- | --- |
| Red Line normal operating hours1 | 0550-2400 | 0550-0100 | 1300-0100 |
| Green Line normal operating hours1 | 0550-2400 | 0550-0100 | 1300-0100 |
| Eid Al Adha 2013 timings | 0530-2400 or 0530-0300 | 0530-0300 next day | 1000-0300 next day |
| Eid Al Fitr 2013 timings | 0530-0100 next day | 0530-0200 next day | 0900-0200 next day |
| Ramadan 2013 operating times Red Line | 0530-2400 | 0530-0100 | 1300-0100 |
| Ramadan 2013 operating times Green Line | 0550-2400 | 0550-0100 | 1300-0100 |
| Ramadan 2012 operating times | 0550-2400 | 0550-0100 | 1300-0100 |
| Red Line timing from 01 Oct 2012 (trial) | 0530-2400 (Red Line) | 0530-0100 (Red Line) | 1300-0100 |
| Normal timings from 03 Sept 2011 | 0600-2400 (6am-midnight) | 0600-0100 | 1300-0100 |
| Normal operating times after 15 Oct 2010 | 0600-2300 (6am-11pm) | 0600-2400 | 1300-2400 |
| Normal operating times 2009-2010 | 0600-2300 (6am-11pm) | 0600-2400 | 1400-2400 (2pm-12am) |
| Ramadan 2010 operating times | 0600-0100 (6am-1am) | 0600-0100 | 1400-0100 (2pm-1am) |
| Eid and National Day 2009 | 0630-0030 (630am-1230am) | 0630-0030 | 0630 or 1400 to 0030 |
| Ramadan 2009 opening hours | 0600-2400 (6am-12am) | 0600-2400 | 1400-2400 (2pm-12am) |
Conflicting information supplied by the RTA (Aug 2013) - Friday start time 1300 or 1400 (should be 1300?), Thursday finish time 2300 or 2400 (should be 2400?), weekday start time 0530, 0550, or 0600 - should be 0530 for Red Line express trains, and 0550 for normal services on Red and Green Lines. Times given in italics are correct as far as we know.
Dubai Metro Museum project
Dubai Metro museums project will see art museums installed at various stations by the start of Art Dubai 2015 in March 2015 (WAM news 17 Mar 2014).
Phase one of the project will cover 4 metro stations with works of art from 4 different themes (which stations not named in initial report): Islamic Arts and Arabic Calligraphy Museum, Inventions Museum, Contemporary Art Museum, and Visual Art Museum.
DIFC pedestrian bridge from Dubai Metro
06 Feb 2014 - Brett Schafer, CEO of DIFC Properties, said "There are plans to have a bridge, similar to the one connecting the Metro station to Dubai Mall." Source: Emirates 24-7 "DIFC plans footbridge to Dubai Metro station." He didn't say when the passenger walkway would be built, or from which station. Emirates Towers on the Red Line is the closest station to DIFC (not Financial Center station).
Photography on or of the Dubai Metro
19 Aug 2013 - Ramadan Abdullah Mohammed, Director of the Rails Network Department or Rail Operations Department at the Dubai RTA was reported by Emirates 24-7 as saying "It is perfectly fine to take pictures from any angle on the Dubai Metro or its premises ... If a woman is upset because she was captured on a picture, she may report this case to the police. When an argument takes place on the Metro, this is reported to the police. ..." So according to this report of comments from the Dubai RTA:

Taking photos or videos of the Dubai Metro is permitted.
Taking photos or videos on or in the Dubai Metro is permitted.
Taking photos or videos of people without their permission is not permitted (UAE law, not Dubai Metro rules). Whether anything happens to you if you do, usually depends on whether or not the subject of your photograph makes a complaint to the police. See photography in Dubai for more.

But ... we have had personal experience of being told not to take photos in the Dubai Metro (by security guards in metro stations). So who knows ...
Dubai Metro expansion - Red and Green Lines
04 Feb 2014 (Gulf News) - by 2020 an additional 12 stations planned for the Red Line (total from 29 to 41 stations), and 11 stations on the Green Line (total from 20 to 31 stations), bringing the total number of stations on both lines to 70 (currently 47). Red Line extension from Rashidiya to Mirdiff (3.5 km), and from Jebel Ali to the Expo 2020 site near the new Al Maktoum International Airport (15 km). Green Line extension from Creek Station to Dubai Festival City, Ras Al Khor, International City, Silicon Oasis, Dubai Academic City (20.6 km). Total length of both lines will be 110 km.
07 Sep 2013 (WAM news) - announcement that the Red Line would be extended from Rashidiya to Mirdif, and the Green Line from Al Jadaf to Academic City (expansion plans had been previously announced or reported). Extended tracks and additional stations expected to be operational before 2020. Work might start in 2014 according to some reports.
16 Jun 2013 (E24-7) - Dubai Metro Red Line extension from Jebel Ali MS to Al Maktoum International Airport will be brought forward if Dubai wins the World Expo 2020 bid as host city. Project cost estimated at AED 5 billion, construction time 3-4 years. Update: Dubai did win the Expo 2020 bid.
Dubai Metro expansion - Stage 2 and 3 (or Phase 2 and 3)
16 Jun 2013 (E24-7) - Stage II: Gold Line (previously called the Yellow Line?), Purple Line, Jumeirah Tram. Start date after 2020, project cost AED 45 billion. Additional 58 stations on track length of 91 km, bringing total rail network length to 200 km with 128 stations.
16 Jun 2013 (E24-7) - Stage III: Construction from 2025-2030. Blue Line and Violet Line (same as the Purple Line?) with additional 69 stations on 221 km of track.
Dubai Metro connection to the UAE rail network
16 Jun 2013 (E24-7) - three stations on the Dubai Metro network will allow passenger transfers and connections to the UAE rail network (Etihad Rail): Al Maktoum Airport Station, Dubailand Station (Dubai Land Station), Central Station. Construction dates not reported, might not be until 2025 or later.
Train frequency and metro timing updates
Peak hours are 1630-1900 Sun-Wed, 1630-2000 Thu according to RTA information. Or 0630-0900 and 1630-2000 also according to RTA information.
07 Aug 2013 - Eid metro times Thu 08 Aug 2013 0550-0200 (next day), Fri 09 Aug 2013 0900-0200 (next day), Sat and Sun 10-11 Aug 2013 0550-0100 (next day) (RTA information). Red Line express trains from 0530-0550 as per normal operating schedule.
24 May 2013 - Frequency increased from 3½ to every 3 minutes on the Red Line during peak traffic hours: from 0630-0900 for Rashidiya to Jebel Ali trains only, and from 1630-2000 for Jebel Ali to Rashidiya trains only. Revised schedule started at the beginning of May 2013. Outside peak hours, interval between trains is 6-8 mins.
23 Dec 2012 - train frequency every 2½ mins during peak hours and every 6 mins at other times from 31 Dec to 01 Jan, trains will operate non-stop from 0600 on 31 Dec 2012 through to 2400 on 01 Jan 2013.
18 Jul 2012 - Red Line frequency every 4 mins, Green Line frequency every 6 mins during evening peak hours 2000-2300 in Ramadan 2012.
Express trains - "Metro Express" service
Express trains operate on the Red Line from Sat-Thu, first express train starts at end stations at 0530, second express train at 0540. Normal services start at 0550. No express trains on Fridays. Total journey time on express trains reduced by 10 minutes between Rashidiya and Jebel Ali end stations. Normal journey time is about 60-70 minutes.
Express trains stop only at the following stations: Rashidiya, Emirates, Al Rigga, Union Square, Khalid bin Al Waleed (Burjuman), Karama, Al Jafiliya, Emirates Towers, Noor Islamic Bank, First Gulf Bank, Dubai Internet City, Ibn Battuta, Jebel Ali according to an Emirates 24-7 report 30 May 2013, conflicts with previous information which said Dubai Airport terminals 1 and 3, Emirates HQ, Deira City Centre, World Trade Center, were also express train stops.
07 Aug 2013 - Some RTA information says Red Line start time is 0550 but express trains starting at 0530 are still in operation as far as we know. For example, Eid Al Fitr 2013 operating hours flyer supplied by the RTA says "Metro Express service Red Line is available at 5:30 am as usual."
30 May 2013 - Metro Express service have been made permanent after a successful trial run. The number of daily express train passengers is about 700-800.
29 Sep 2012 - trial period of 5 months announced for Red Line express trains (might have been reported sooner?) on Sat-Thu. Two express trains - one at 0530, the second at 0540. Normal service from 0550. Stops only at Jebel Ali, Ibn Battuta, Noor Islamic Bank, World Trade Center, Al Karama, Khalid Bin Al Waleed (Burjuman), Union, Al Rigga, Deira City Center, Airport Terminal 1, Airport Terminal 3, Emirates HQ, Rashidiya.
Order a taxi from Dubai Metro
In May 2012 the Dubai RTA announced a service for Dubai Metro passengers ordering a taxi by SMS (Hailing of Taxis by SMS service). Only for Etisalat mobile phones at time of announcement, not Du (start date not supplied for Du phones).
Type R or G for Red or Green line, followed by station number (no spaces), followed by letter of station exit (no spaces), e.g. G12A, and send SMS to 4774. You should receive a text message reply confirming taxi availability.
Dubai Metro stations renamed
Dubai Marina station renamed as Damac Properties station (or Damac station). RTA announcement 17 Sep 2014.
Karama station renamed as ADCB station (Abu Dhabi Commercial Bank). RTA announcement 15 Sep 2014.
12 November 2012 (RTA announcement)
Jebel Ali Industrial station renamed as Danube station (on the Red Line).
Khalid Bin Al Waleed station renamed as Burjuman station (intersection of Red and Green Lines).
Dubai Metro length and train frequency update March 2011
Total operating length of the Red Line extended by 9 km to 53 km when Jebel Ali Station opens on 11 March 2011 (RTA press release 05 March 2011).
27 trains operating during morning peak hours, and 29 trains during evening peak hours.
Interval between trains 6-8 minutes during AM rush hour, and 5-6 minutes during PM rush hour.
Dubai Metro Red Line stations opening in late 2010
The Dubai RTA said all Red Line stations would be open by end 2010 (or possibly October 2010). But then, they've also said in the past that all Red Line stations would be open on 09 September 2009 (they weren't), and that the Green Line would be running by March 2010 (it wasn't).
Some stations are rumoured to be opening on 15 October 2010 - Business Bay, First Gulf Bank, DG Sharaf, Jumeirah Lake Towers, and Nakheel (31 August 2010). But don't hold your breath ... Update 07 October 2010 - apparently they will open on 15 October 2010 according to the RTA.
... The National reports on 31 August 2010 that Ramadan Mohammed, Director of Rail Operations at the RTA said "We will open some stations by the end of the year, in the fourth quarter, ... Some stations we may keep closed longer. All eight will not be opened at the same time," making it sound like some stations won't open at all in 2010.
Dubai Metro operating times (announced by the RTA 30 August 2009)
Dubai Metro operating times to be extended from Friday 16 October 2010 when 5 new Red Line stations open (Thursday to 2400 instead of 2300, Friday from 1300 instead of 1400).
Frequency of trains is every 6 minutes during peak hours (1600-2400), and every 8 minutes during off-peak times (0600-1600).
Stopping time in stations is 20 seconds after 16 October 2010 (reduced from 30 seconds).
Operating times might be extended after all Red Line metro stations are open, according to reports in May 2010 after several stations were opened ... but don't hold your breath.
Note that the finish time is when the last train stops and parks itself for the night, not the start of the final run. Assume start time of last train is about 1 hour before and work your way forward from that depending on where you want to catch it.
New Years Eve operating times extended to 0300 on 01 January 2011 (night of 31 December 2010).
Dubai Metro highlights
How quiet, smooth, clean, and quick the trains are.
Shopping link at Mall of the Emirates station. Ok it's only a bunch of shops but it's just so much nicer than anywhere on the Circle Line.
Those wacky chandeliers at Khaled Bin Waleed station (was called BurJuman station).
The water theme at Khaled Bin Waleed station. You'd almost believe you really were underwater.
Dubai Metro history and displays at Union Square station.
Dubai Metro Lego model at Rashidiya station.
Walking out of an underground station to see a Dubai traffic jam that you're not part of - from Khalid Bin Walid, Union Square, Al Riga, or Deira City Centre stations.
Looking out the windows at the front or rear of the train (there's no pesky driver to get in your way).
Dubai Metro lowlights and whines
Pedestrian bridges over the Sheikh Zayed Road are closed when the metro trains stop running despite the RTA saying they would stay open. Update [when?] - passenger walkways are open 24 hours?
The trains don't start operating until 2pm on Fridays. Who told the timekeepers at the RTA that all Dubai residents slumbered until mid-afternoon? Go meet some bemused tourists at Dubai Metro stations on Friday mornings, and make new friends (perhaps that was what the RTA intended). Update: trains start operating at 1pm on Fridays.
Last train is at 11pm during the week. And with no sensible explanation from the RTA it's no surprise that many believe the rumour that the early closing was implemented for the benefit of taxi drivers. Update: operating times extended to midnight on week days, and 0100 on weekends.
No heavy baggage on the Metro. And yet the RTA put not one, but two metro stations at Dubai Airport. Not for travellers apparently. Update: As of 05 May 2010 it was reported that the RTA is now allowing passengers to take one medium sized bag and one small piece of luggage on the metro.
Only 4 sets of ticket gates at Mall of the Emirates station. No wonder it gets so choked up. Even the RTA says it's the busiest station.
The music. We thought it was something special for the first day. Please, please, please turn it off, we've had enough now. Or put CNN on the TV screens (but with the sound off). Update April 2010 - at last the music has been turned off. Hopefully the RTA has got the message and doesn't replace it with something else.
The long wait before the doors close. Although if it's deliberate as a kind of running in period while people get used to the metro, we can understand that. Update April 2010 - waiting times are expected to decrease after new stations are opened.
Dubai Metro check in kiosks for Dubai Airport flights
Emirates Airlines have self-check in kiosks at some Dubai Metro stations - Mall of the Emirates, Burj Khalifa (The Dubai Mall), and Financial Center (02 AUgust 2010 press release).
Passengers can choose seats and print out a boarding pass at least 2 hours before departure time.
To use the kiosk, passengers need their reservation code, ticket number, or Skywards membership number.
Passengers still need to lug their own bags to the airport though. Those with bags for check-in can go to the Baggage Drop counters, those with hand luggage only can go straight to the immigration desk at the departure terminal.
Dubai Metro limits on luggage - May 2010
Roads and Transport Authority (RTA) luggage and baggae regulations for the Dubai Metro limit travellers to 2 bags.
First piece size limitations are 81cm width, 58cm height, 30cm depth.
Second piece maximum dimensions are 55cm width, 38cm height 20cm depth.
Dubai Metro Stations open on the Red Line
12 Dec 2012 - Danube station on the red line opened (WAM).
11 Mar 2011 - Jebel Ali Station scheduled to open (RTA announcement 05 March 2011).
30 Apr 2010 - seven new stations open on the Red Line, another three are due to open on 15 May 2010, and the remainder between then and the end of 2010 or possibly before October 2010.
20 Feb 2010 press release - the Dubai Roads and Transport Authority (RTA) announced new opening dates of April 2010 for the remaining Red Line stations, and August 2011 for the Green Line: "Mattar Al Tayer, Chairman of the Board and Executive Director of Roads & Transport Authority (RTA), announced that the Contractor of Dubai Metro Project; Dubai Rail Link (DURL) Consortium; is set to complete all the remaining works in the stations on the Red Line (18 stations) on 25 April 2010, and that all works in the stations on the Green Line will be completed in August 2011." Which seems to confirm the January 2010 "inaccurate media reports" of delayed progress, which the RTA "was surprised with" at the time.
09 Jan 2010 (RTA official blog): The RTA was surprised at "some media channels circulating inaccurate reports about the project" referring to reported construction delays. The RTA blog said "The Dubai Roads & Transport Authority (RTA) confirms that Dubai Rail Link (DURL) Consortium is continuing with the construction works of Dubai Metro Project according to the planned schedule, and work is progressing normally at various sites in both the Red & Green Lines to finalize the remaining works of the project"
15 Dec 2009: The RTA said they might open the Burj Dubai metro station on the same day as the Burj Dubai tower opens - 04 January 2009. The RTA Communication Director, Peyman Younes Parham, said "We are thinking about it but it is a complicated process to put just one extra station on the line"
14 Nov 2009: An RTA press release announced that the "RTA is all set to phase out the opening of the stations in February 2010," referring to the remaining 19 Red Line metro stations not yet open, indicating that none of the additional stations would be open before February 2010 as previously indicated.
03 Sep 2009: Xpress4me, a Dubai weekly newspaper, had a story that the 09-09-09 opening date of the Dubai Metro would be for VIP guests only, and the ordinary plebs would not be allowed to use it until the next day. The first 09-09-09 trip would be sometime between 1430 and 1600, and run from Mall of the Emirates station to Nakheel Harbour & Tower station and then to Rashidiya station. The report didn't say if the trains would be pushed by workers or operate under its own steam. Follow up reports in other press then said the first trip would be 9pm on 09-09-09 from MOTE to Rashidiya, updated to 7:45 pm according to reports on 08 September 2009.
30 Aug 2009: The Dubai RTA has announced that 10 stations will be open on the first day of Dubai Metro operations, 09 September 2009. The stations are Al Rashidiyah, Dubai Airport Terminal Three, Deira City Center, Al Rigga, Union Square, Khalid Bin Waleed (ex-Burjuman), Al Jafliya, Dubai Financial Centre, Mall of the Emirates, and Nakheel Harbour and Tower. The remainder will open at different times between September 2009 and February 2010 according to the RTA.
The Dubai Metro Red Line will have 29 stations when fully operational. However, the expected number of Dubai Metro stations opening on 09 September 2009 opening date is 9, 10, 17, 22, or 29 depending on whether you believe RTA statements, unnamed sources reported in the media, or anonymous blogs. As the opening date approached, it was clear to anyone driving past the Dubai Metro stations under construction that either the RTA had a good deal more optimism than most people or they had found a way to increase the number of hours in the day to 40 or 50.
26 Aug 2009 - "Only nine or 10 stations will open in the first phase," - according to a "person familiar with the project" said Maktoob Business, apparently referring to the anonymous blogger from a few weeks earlier.
26 Aug 2009 - "This includes the 9 stations to be delivered for 999," - an internal contractor email referring to request for a permit to allow an exemption from the midday work ban that applies in Dubai during July and August, according to an Arabian Business report.
09 Aug 2009 - "All the stations are not yet ready but we hope to open 17 to 22 stations out of the total 29," - an unnamed RTA official according to a Gulf News report.
Jul-Aug 2009 - 9 or 10 stations according to an unknown blogger/forum poster (s/he supplied a list of which stations).
27 Jul 2009 - "It is almost certain that the metro will be open with only a few stations in operation in the first phase," - Jose Paul of the consulting firm Frost & Sullivan according to Arabian Business.
27 Jul 2009 - "We announced before that we are opening all stations and there is nothing beyond that at this point in time," - an anonymous RTA spokesperson according to Arabian Business.
Jun 2009 - "There would be no point in opening a station where there are no buildings finished," - Mattar Al Tayer, the head of the RTA, according to various reports in response to implications that some stations might not open on time, after the announcement of Dubai Metro fares.
My City, My Metro
My City, My Metro is the RTA marketing campaign leading up to the start of the first Dubai Metro public journeys, and into 2010. The My City, My Metro campaign was launched in June 2009 and will consist of 3 phases lasting 1 year. Saatchi & Saatchi were awarded the marketing contract for the Dubai Metro.
My City My Metro phase I (June 2009): general information about design and operation of the Dubai Metro.
My City My Metro phase II (August 2009): more specific information about Dubai Metro fares, timings, security, and use of the transport system.
My City My Metro phase III:
Dubai Metro lines in operation, under development, or planned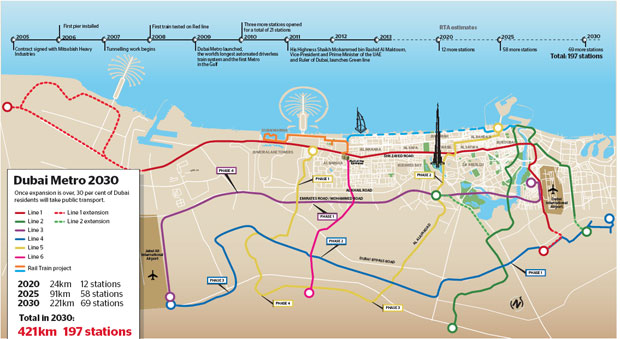 Dubai Metro 2030 lines future expansion map
Dubai Metro 2030 map of future plans for expansion. First seen in KT report 17 Jan 2013. Unclear if original source is KT, RTA, WAM, or another body. Higher resolution image not provided.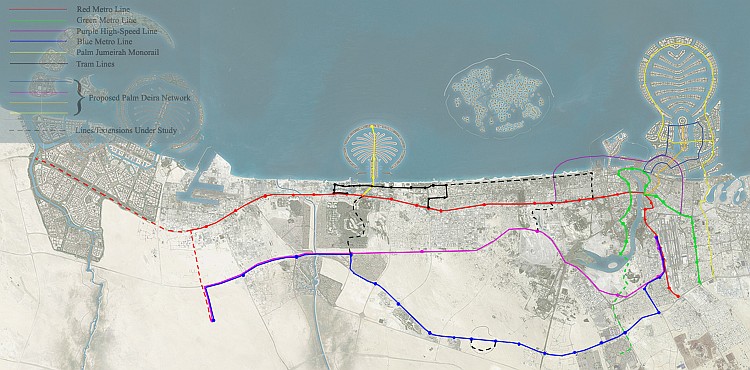 Dubai Metro lines operating and planned (old map, possibly May 2007)
Original source unknown (RTA?), image date appears to be May 2007 - before 2008-2009 when a number of planned projects in Dubai were suspended, delayed, or cancelled, including the Jebel Ali Waterfront and Deira Palm Island.
List of Dubai metro lines, operating and planned
Dubai Metro Red Line (Line 1)

runs from Rashidiya to Jebel Ali, past Dubai Airport (stations at both T1 and T3), to Union Square interchange in Deira, under Dubai Creek to the Burjuman Center in Bur Dubai, then along Sheikh Zayed road above ground. First date of public operation 09 September 2009 (09-09-09). Total of 29 stations. Extension from Rashidiyah to Mirdiff (Mirdif) planned with completion expected before 2020 (07 Sep 2013 WAM news).

Dubai Metro Green Line (Line 2)

runs from Al Ghusais in Deira to Al Ras then under Dubai Creek to the Burjuman Center and continues above ground through Dubai Healthcare City to Al Jadaf. Total of 18 stations. Extension from Al Jaddaf to Dubai Academic City planned with completion expected before 2020 (07 Sep 2013 WAM news).

Dubai Metro Purple Line (Line 3)

(52 km) - an express service along Al Khail Road connecting Dubai International Airport and Al Maktoum International Airport in Jebel Ali. Planned completion by 2012 (October 2006 information). Update August 2009: under review due to economic and financial crisis. Dubai Airport has reportedly proposed an alternative to the purple line of a central rail terminal with lines branching out to airports and other destinations. Update 09 September 2009: delayed due to economic crisis according to comments by Mattar Al Tayer, the RTA head, at the launch of the Dubai Metro Red Line.

Dubai Metro Blue Line (Line 4)

- along Emirates Road, also connecting Dubai and Jebel Ali Airports. In planning stages (October 2006 information). Update 09 September 2009: delayed due to economic crisis according to comments by Mattar Al Tayer, the RTA head, at the launch of the Dubai Metro Red Line.
Dubai Metro Gold Line (Line 5) (Jan 2013) - from Port Rashid through Bur Dubai to Downtown Dubai, a transfer interchange station with the Purple Line in the Meydan area, out through Dubailand to the E611 road (Outer Bypass Road), parallel to the E611 towards Al Maktoum Airport, then back towards Jumeirah Palm Island but finishing when it connects with the Red Line in the TECOM area. Description based on route map, not confirmed. Timeline unknown, might not be until 2025 or later. Most of the route is deserted or very sparsely populated at the time it was announced. Different from the previously reported or announced Yellow Line.
Dubai Metro Magenta Line (Line 6) (Jan 2013) - from Mall of the Emirates along Umm Suqeim and Al Qudra roads, past Arabian Ranches, through Bawadi, and connects with the Gold Line beyond the E611 road out in the desert somewhere (well, desert at the time it was announced). A similar route was first reported as the Yellow Line in 2006. Name of route not confirmed as the "Magenta Line", route description and information based on Dubai Metro 2030 map, and color of route marked.
Dubai Metro lines unconfirmed, proposed, suspended, abandoned or made up
Dubai Metro Black Line - also from the MEED report 31 August 2008: "the Black line, will connect the trunk of Palm Deira with the Union Square station in the Deira area of the city."

Dubai Metro Magenta Line

- a proposed tram system for the Palm Deira (maybe): "The proposed tram system, the Magenta line, will only serve Palm Deira, connecting the main islands of the project." according to MEED 31 August 2008. Update 17 Jan 2013 - there is a route colored magenta on the Dubai Metro 2030 map released, but a different location, along Umm Suqeim Rd and Al Qudra Rd.

Dubai Metro Orange Line

- part of Dubailand, under consideration according to a 30 June 2006 report in MEED ("an orange line serving Dubailand;"). But then MEED said in a 31 August 2008 "The other metro route, the Orange line, will run in a loop across several of Palm Deira's islands and link to the Abu Heil and Ghubeibah stations on the Green line."
Dubai Metro Pink Line - reported in Xpress 08 October 2009 as part of the planned Jumeirah Gardens development by Meraas. Expected to run from Deira through to Al Satwa, Jumeirah, Al Wasl, to Safa Park, then underground below Sheikh Zayed Road. The RTA apparently knew nothing about it. According to the report, an anonymous source said "Some people call it the new Pink Line, others simply call it the newest Metro line." The report then said However, Roads and Transport Authority (RTA) officials told XPRESS they have never heard of a Pink Line or any reference to a fifth new line.

Dubai Metro Yellow Line

- under consideration in Dubailand according to a MEED report 30 June 2006 - "a yellow line running along Al-Qudra road serving the Bawadi development". Another news item April 2008 (source unknown - Dubai RTA?) indicated the Yellow Line would be developed and operated by a consortium including Alstom and Serco. Or the Yellow Line might refer to the Jumeirah Palm monorail. Update 17 Jan 2013: the Al Qudra Road version is a magenta color on the Dubai Metro future expansion plans map.
Dubai Metro operating information
Dubai Metro hours of operation

0500-0030 (5am to 12:30am) daily

(see table at top of page). Some sources said operating times would be 0600-2400 (6am to midnight).
Dubai Metro trains top speed 90 km/hr or 110 km/hr (conflicting information seen), average journey speed will be about 40-50 km/hr, not 110 kph as seen in some sources. Information applies to Red and Green lines, other lines might be faster - up to 160 kph for the Purple Line for example.
Wifi wireless internet access expected to be available en route and in metro stations.
Standard Dubai Metro ticket prices for adults range from AED 2.00 for a short journey to AED 6.50 for a long journey. Less than half price for registered students and senior citizens monthly passholders, double price for Gold Class tickets (for those who want to sit at the front). Discounted tickets if bought in advance, or for one day.
Separate carriage available for women and children with extra space for bags and prams, and for VIP Gold Class travellers. Each train is 5 cars or cabins, of which one is divided in two - half for women and children, the other half for Gold Class travellers.
Update 26 Aug 2013 - the RTA announced that the space for women would be increased by half a cabin during peak hours starting 01 Sep 2013 - half a cabin for Gold class, two half-cabins for women and children, the other three and a half cabins for the hoi polloi. Peak hours for this initiative are 0700-0900 and 1700-2000 from Sun-Thu.
Gold Class carriages will have carpet and leather seats, and a nice view out of the front or rear of the train depending on travel direction - the first carriage in each train will be Gold Class (which makes it the last carriage in the opposite direction, and cattle class will get the view out the front).
Special Needs passengers will be catered for with wheelchair access and reserved spaces for wheelchairs.
Priority seating available for elderly, injured, special needs, and pregnant passengers.
Cabin capacity about 130 passengers, total capacity of each five-cabin train is about 650 passengers.
Dubai Metro operating contract awarded to Serco UK for 10 years, worth about AED 3 billion (US$820m). Serco will maintain trains, tracks, stations, central control, and provide staff. Serco run trains, hospitals, prisons, and more in the UK. Serco was also awarded a 10 year contract to operate air traffic control systems for Dubai airports, reportedly (FT 14 June 2009).
Number of passengers using the Dubai Metro expected to be about 40,000-50,000 per minute during peak hours in 2010 (assuming both Red and Green lines are fully operational), and 100,000-120,000 per minute by 2020 (probably assuming at least Red, Green, Blue, and Purple lines operational, and perhaps some of the other colors). Forecasts based on 2006 reports.
Other Dubai Metro numbers and information
17 April 2010 press release - a total of 13.68 million passengers have used the metro from 09 Sep 2009 to end March 2010, and daily passenger number is 80,000 travellers. Total number of riders expected to reach 35 million by end of 2010.
Total number of trains expected to be 131, total distance covered by Red, Green, Blue, and Purple lines expected to be 70km (probably to be reviewed). Further plans for additional lines expected total distance to increase to 318 km by 2020 with about 1.8 million passengers per day travelling on the network.
Dubai Metro trains constructed in Japan.
Project managers for architectural, civil, and structural design is Atkins Middle East.
Design consultant for Red and Green line stations and control centers is Aedas Architects.
Union Station on the Red and Green lines is apparently the largest underground metro/subway station in the world, with an area of 25,000 sq meters.
Passenger numbers on the Dubai Metro
| Month | Number | Month | Number | Month | Number |
| --- | --- | --- | --- | --- | --- |
| | | January 2010 | | January 2011 | 4.7 million |
| | | February 2010 | | February 2010 | 4.6 million |
| | | | | | |
| Total 2009 | | Total 2010 | 38.9 million | Total 2011 | |
Daily average of about 149,000 passengers according to 05 March 2011 RTA press release. Figures from RTA Statistics Office.
Dubai Metro Nol cards, tickets and fares
Dubai Metro tickets - more information and table of Dubai Metro fares and Nol card details.
Passengers on the Dubai Metro will use "Nol" cards (pronounced to rhyme with mole, not spelt out as n-o-l), which will come in 4 different colors. Nol means "fare" or "transport cost" in Farsi and/or Arabic. Nol card sales started on 20 August 2009 with the Silver Cards being the first available, from RTA service centers, and Dubai Bus stations.
Standard single ride ticket prices range from AED 2 to AED 6.50, making the Dubai Metro one of the cheaper subway / mass transit systems around. Even cheaper tickets available for students and the elderly, 30 day passes also available, and more expensive VIP tickets for distinguished travellers.
Dubai Metro wireless broadband internet network
Wireless internet access available in Dubai Metro trains and stations, operated by Du Telecom of Dubai.
WiFi access was free initially, but became fee-paying in October 2009.
WiMax network upgrade provided by Nomad Digital, a UK based mobile services provider specialising in the transport sector (26 October 2009 reports).
Dubai Metro trains run along a corridor of wireless coverage supplied by WiMAX radios located along the metro routes.
Dubai Metro Feeder Lines
In 2005 and 2006 there were reports of several proposed monorail feeder lines to connect various areas and developments with the Dubai Metro. Possible and proposed locations for the additional light rail systems included Al Sufouh, Business Bay, City of Arabia, DIFC, Downtown Burj Dubai, Dubai Festival City, Dubai Waterfront, Dubailand, Palm Deira, Palm Jebel Ali, Palm Jumeirah. Apart from the Palm Jumeirah feeder line, which isn't connected to the Dubai Metro anyway, and the Al Sufouh Tram (under construction in 2009-2011), the others have faded away (as has progress on most of those developments in 2009). However there will be feeder bus services through the more populated areas of Dubai linking with the nearest Dubai Metro station.
Shops and retail facilities in Dubai Metro stations
Dubai Metro stations will each have from 2 to 12 retail outlets (see pages about each of the Dubai Metro lines for a table with numbers of shops at each station) including a convenience store in each station.
There are 52 convenience store contracts available, one for each station on the Red and Green lines. Total number of stations is 47 so some stations will have two stores? In August 2009, the RTA announced that eating and drinking would not be permitted on Dubai Metro trains, partly contributing to the decision by Last Minute to pull out (Arabian Business 27 August 2009).
Total of about 100 shops on each of the Red and Green lines.
Shop sizes range from 10 square meters to 600 sq meters.
24 Seven (abandoned bid July 2009) - was bidding on 20 stores.
ENOC Zoom convenience stores - 18 outlets to open on the red line, 10 on the green line. On 09-09-09 two shops open at Rashidiya station, one at Mall of the Emirates station. Open 0700-1200.
EPPCO - some of the Last Minute outlets?
Last Minute - had contracted to operate 28 stores, cancelled Red Line deal for 18 stores 27 August 2009. Might still open 10 stores on the Green Line.
Rami Deli - first one open at Khalid Bin Waleed station, 10 stores planned for Red Line.
Starbucks - 6 outlets?
List of Dubai Metro stations with shops
Nakheel Harbour and Tower
Mall of the Emirates station - Zoom convenience store
Mall of the Emirates metro link walkway has Better Life, Borders Express, Cold Stone Creamery (but no ice creams on the metro trains sorry), ECity, EMax, Home Sweet Home, IDdesign furniture, Jacky's Electronics, Nokia, Paperchase (stationery), UAExchange.
Financial Center station - Chiquita fruit juice bar
Jafiliya
Khaleed Bin Waleed station (ex-Burjuman station) - Ramee Deli, Zoom convenience store.
Union Square - Asia Exchange Center, Internet Heroes Express, Metro Community Pharmacy, Waxy's Cafe
Al Rigga
Deira City Center
Dubai Airport Terminal 3
Rashidiya - Zoom convenience store
Metro Park n Ride facilities
A few stations on the red and green lines will have large car park facilities. So far they will be Rashidiya Stationa, and Nakheel Harbour and Tower Station on the Red Line (about 3000 car parks each), and Etisalat Station on the Green Line (6000 car parks).
Car parking might be available to varying degrees at other metro stations (good luck trying to find anything at Union Square or Baniyas Station though).
Park n Ride carparks free to public transport users.
Carpark charges AED 10 per hour or AED 50 per day for those not using public transport.
Gulf News reported on 17 May 2009 that People commuting by the Dubai Metro will be allowed to park their cars for free, according to information from the Roads and Transport Authority Dubai (RTA), but the free car parking would only be at Dubai Metro Rashidiya, Al Qusais, and Jumeirah Island stations. Gulf News did not include the name of the RTA official from whom they obtained the information, or quote him/her.
Dubai Metro Tunnel Boring Machines (TBM)
Al Bugeisha, AlBugeisha (TBM1), assembled in Japan, arrival in Dubai November 2006, tunnel boring start January 2007 from Union Square to Burjaman for the Red Line.
Al Wugeisha 2 TBM2 - Union Square to Al Rigga, Al Rigga to Deira City Center.
AlWugeisha 3 (TBM3) on the Green Line, arrived September 2007, tunnelboring from Al Ras to Burjaman, Union Square to Salahuddin, Palm Deira to Al Ras.
Dubai Metro History and Timeline
30 Sep 2013 - Energy Station on the Red Line opens.
07 Sep 2013 - announcement (WAM news) that Red Line would be extended from Rashidia to Mirdiff and Green Line from Al Jadaff to Academic City, operational by 2020.
25 Dec 2012 - Dubai Mall metro station link to the Dubai Mall opened. Length is 820m, is an enclosed airconditioned walkway with 10 travelators. Capacity 13,500 persons per hour. About 15-20 mins walking time between station and mall.
12 Dec 2012 - Danube station on the Red Line opened.
03 Jan 2012 - Emaar Malls announced that an airconditioned glass tunnel walkway would be built from the Dubai Mall metro station to The Dubai Mall. Completion planned for sometime in 2013.
Q4

August

2011 - Dubai Metro Green Line expected to open (originally scheduled for March 2010). Further delay in 10 April 2011 news.
15 Mar 2011 - discounted Blue Nol Cards can be applied for at metro and bus stations, or online at www.nol.ae (RTA announcement 28 February 2011).
10 Feb 2011 - RTA announced discounted Dubai metro tickets for senior citizens, students, and special needs travellers. Only a year and a half later than planned.
01 Aug 2010 - Green Line track complete, testing starts (GN 02 August 2010).
01 Jul 2010 - record number of 130,529 passengers used the Dubai Metro in one day (GN 02 Aug 2010).
19 Jun 2010 - Green Line stations almost all structurally complete, interior finishing a bit over halfway complete. Al Qusais Park-and-Ride facility 75% complete (RTA press release).
15 May 2010 - 3 more stations due to open on the Red Line - GGICO, Dubai World Trade Center, and Al Quoz
30 Apr 2010 - another 7 metro stations open on the Red Line - Ibn Battuta Mall, Dubai Marina, Dubai Internet City (TECOM), Emirates Towers, Al Karama, Dubai Airport Terminal 1, and Emirates Airlines HQ.
25 Apr 2010 - Emirates, Airport Terminal 1, GGICO, Al Karama, World Trade Center, Dubai Marina, and Ibn Battuta stations scheduled to open with the remainder opening later in 2010. Update: new station openings delayed until 30 April and 15 May 2010.
04 Jan 2010 - Burj Dubai (Burj Khalifa) station opened.
09 Sep 2009 at 9pm - opening ceremony at Mall of the Emirates station on the Dubai Metro Red Line. Public operation started on 10 September 2009 with 10 stations open and the other 19 delayed until February 2010 or later.
May 2009 (or earlier) - Dubai Metro Purple Line plans put on hold.
Feb 2009 - RTA commences new Integrated Rail Master Plan study to look at a revision of the Dubai Metro rail network. Study being carried out by Parsons Brinckerhoff with completion expected in 2010.
Mar 2008 - first Dubai Metro train delivery expected in Dubai
Mar 2008 - trial runs begin on the Red Line near Jebel Ali (originally scheduled for November 2008).
30 Oct 2007 - Purple and Blue metro lines announced at a MEED railway conference by Abdul Redha Abu Al Hassan, the Director of Planning at the RTA.
21 Mar 2006 - Dubai Metro Project officially announced and inaugurated, with completion scheduled for April 2010 (bothe Red and Green lines).
01 Nov 2005 - Roads and Transport Authority Dubai (RTA) created by the Dubai Government.
Jul 2005 - Design and Build contract awarded to Dubai Rail Link (DURL), a consortium including Kajima Corporation, Mitsubishi Corporation (consortium head), Mitsubishi Heavy Industries, Obayashi Corporation (all from Japan), and Yapi Markezi of Turkey. Also referred to as the Japanese-Turkish Metro Joint Venture (JTMJV)?
Oct 2004 - tender for Dubai Metro launched
Feb 2004 - Dubai Metro is a go. Dubai Rail Project (DRP) estimated construction cost AED 14.3 billion, length 69.2 km (50 km red line, 19.2 km green line), transfer stations at Al Ittihad Mall and Bur Juman Center, total trains 99, each train 5 carriages and 400 passengers, trains to have separate women and children section, and first class section, capacity 27,000 passengers per month on the red line, 18,000 on the green line. Estimated operating cost of AED 570 million per year to be met from fares and advertising revenue. General Co-ordinator of the DRP is Nasser Ahmed Saeed (International Rail Journal 18 March 2004).
2002-2004 - more detailed engineering and technical design specifications determined, tender documentation for Design and Build contract prepared (study PS007).
2000-2002 - planning study (PS002 - Dubai Transit Options) resulted in initial designs for a main rail corridor and a Central Business District route.
1997-2000 - feasibility study (R1700 or R700) concluded that a rapid transit metro system would be needed in Dubai.
Dubai Metro Themes
Each Dubai Metro station design on the Red and Green lines will be based on one of 4 themes - Air (11 stations), Earth (12 stations), Fire (11 stations), or Water (13 stations). See lists of stations for theme for each station.
Dubai Metro train interiors will be based on a Water and Air theme.
The outer shell appearance of the metro stations is not supposed to remind you of beetles (as it might appear from above), but reflects the pearl-diving history of Dubai.
Dubai Metro Cost
Initial projected cost of the Dubai Metro was about AED 14 billion, then AED 15.5 billion (US$4.22 bn) in 2005 for the Red and Green lines.
Projected cost had increased to AED 27.9 billion (US$7.6 bn) for the Red and Green lines according to the RTA on 30 August 2009, due to track extensions, additional stations, an additional depot, and design revisions.
Dubai Metro revenues and profit
Given the cheap Dubai Metro fares announced, it seems unlikely that the train system will be a profitable venture, but that wasn't the motivation behind the metro project anyway.
Revenues of AED 17 billion ($4.6 billion) expected in the 10 years from 2009-2019 according to an Emirates Business report 08 September 2009.
The above figure includes AED 1.8 billion from the Dubai Metro naming rights.
The Red and Green lines cost more than that in construction costs, so without adding on operating costs, there's already a shortfall of more than AED 1 billion per year (AED 1000 million!). The RTA gets its fair share of bad press (sometimes deserved) but the next time someone whines about them only interested in making a profit (from Salik for example), that's a figure worth tossing into the conversation.
Additional benefits of the Dubai Metro in economic terms could be several billion dirhams also. The DIFC chief economist, Nasser Saidi, on 07 September 2009 put a number of AED 17-28 billion as the possible increase in productivity from 2009-2014 due to the Dubai Metro. So if the RTA got hold of that on top of the ticket revenues, they might break even after all.
Dubai Metro depots
Etisalat (Al Qusais) - main depot on the Green Line
Rashidiya - main depot on the Red Line
Jebel Ali Free Zone (JAFZ) - auxiliary depot on the Red Line
Dubai Metro public transport connections
Most Dubai Metro stations will have buses and taxis waiting outside.
Some stations, for example Al Ghubaiba Station on the Green Line, are located at Dubai Bus Terminals.
Water Bus access will be available at stations close to Dubai Creek.
Dubai Metro tickets will be unified, meaning they will be valid on other public transport services in Dubai as part of the same journey without extra charge, except for single ticket purchase bought with the Nol Red Card.
Dubai Metro naming rights
Noor Islamic Bank was granted naming rights to Al Quoz station for 10 years according to an RTA press release 12 May 2010, bringing the total number of stations with naming rights to 21?
Before the Dubai Metro started operating, the RTA sold naming rights to 23 stations on the Dubai Metro Network: 11 on the Red Line, 7 on the Green Line, the 2 transfer stations (reduced to 1 after the Burjuman Center withdrew), and 3 elsewhere for extensions or other lines (numbers based on RTA branding map).
Naming rights were sold for a total of AED 1.8 billion according to comments from the RTA boss published in Emirates Business 24/7 on 08 September 2009
Companies were able to bid for the right to rename the station and have corporate branding put in place, hence the result that Al Ghusais Station was renamed as Etisalat Station for example. More details of which stations were renamed on separate information pages for each line.
There were restrictions (no individual branding, no companies involved with pork, alcohol, or other products and services against Islamic culture).
The naming rights are valid for a limited time - 10 years?
Dubai Metro miscellaneous facts and numbers
Dubai Metro Red Line completed in just over 4 years (49 months) (Mattar Al Tayer in Emirates Business 24-7 on 08 September 2009)
154 contracting companies employed in the construction of the Red Line (MAT-EB-08-09-09)
30,000 workers employed in construction of Red and Green lines (MAT-EB-08-09-09)
3 million passengers (approx) used the Dubai Metro in the first 2 months of operation (10 September to 09 November 2009)
57,000 trips per day on average in first 2 months of operation
1.2 million Nol cards sold including 900,000 Silver Nol cards up to 09 November 2009 (RTA comments reported by Emirates Business 24-7 on 09 November 2009).
Dubai Metro Eid and National Day 2009 operating times (announced by RTA 25 November 2009)
Dubai Metro operating hours for Eid Al Adha and UAE National Day holiday period (from Thursday 26 November to Friday 04 December 2009) were announced as 0630 to 0030 (half past midnight) including Fri 27 Nov but from 1400-0030 on Fri 04 Dec 2009. The RTA will monitor passenger traffic with a view to possibly extending Dubai Metro hours slightly, according to Peyham Younes Parham when talking on Dubai Eye radio on Wed 25 Nov 2009.
Last update Wednesday 24-Dec-2014
Related pages
Related websites (new window)
Sponsored links
---