Monday 10 August 2020 (UAE)
Nurseries in Al Manara
Coronavirus in the UAE: Some information on this website is out of date as a result of measures taken in the UAE to deal with the coronavirus crisis. Confirm with official or authoritative sources.
Nurseries in Al Manara, Dubai
Start a new topic in the Dubai nursery reviews forum with comments about this nursery or list of nurseries.
Other nursery lists in Dubai by area
Umm Suqeim 1 and 3 nurseries
Map of nurseries in Al Manara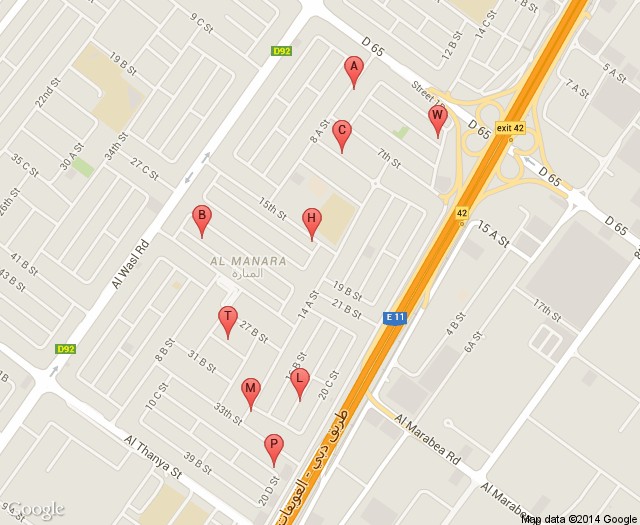 List of nurseries in Al Manara
A. Alphabet Street Nursery - Villa 11, Street 8A.
B. Baby Land Nursery - Villa 7, Street 23A. Also called Key Nursery Umm Suqeim branch.
C. Child's Play Nursery - Villa 11, Street 9B.
Kipina Kids Nursery - located in Al Manara community according to some references (GM) but no nursery at marked location (Street 6B), no evidence of any nursery planned as of Dec 2014. There is a Kipina Nursery opening in Abu Dhabi Jan 2015.
H. Hopscotch Nursery - Villa 48, Street 15. On corner with Street 12A.
B. Key Nursery Umm Suqeim (see Babyland Nursery).
T. Ladybird Nursery Umm Suqeim branch - Villa 9, Street 29, tel 04-3465240. Was previously called Tiny Home Nursery. Ladybird says established 1996 but that refers to Ladybird branch in Al Wasl. Tiny Home established in 1989, renamed in 2014.
L. Little Learners Nursery School (GEMS preschool) - Villa 65, Street 18B. Nursery is in Al Manara not Umm Al Sheif community (error in address given by nursery).
W. Little Wonders Nursery - Villa 25, Street 3. New location in 2010, previously was in Jumeirah 3.
M. Maple Bear Preschool Jumeirah or Umm Suqeim branch - Canadian nursery, open Nov 2014 or Jan 2015. Villa 87, Street 14A. On corner with Street 31C.
P. Potentiel Arabic French English nursery - new in June 2014. Behind Dar Al Ber Center near Al Thanya Rd interchange on Sheikh Zayed Rd. [Villa 53, 35B St (GM), check].
T. Tiny Home Nursery - see Ladybird Nursery Umm Suqeim - renamed in 2014.
First letter is label for location marker on map. List updated 17 Dec 2014.
Nurseries, kindergartens, preschools, day care, child care in Al Manara community
2014-2015 annual fees range from about AED 17,000 for 2 days per week at several nurseries to about AED 47,000 (5 days per week) at Alphabet St Nursery.
Al Manara community area in Dubai is between Al Wasl Rd (Umm Suqeim 2 on other side) and Sheikh Zayed Rd, and between Al Safa 2 and Umm Al Sheif communities along Sheikh Zayed Rd. Sometimes referred to as Umm Suqeim, vaguely part of Jumeirah district.
Al Manara Road marked as D65 on map.
U-turn on Al Wasl Rd near Choithrams is closed (was access to Street 25A in Al Manara community).
Edit notes
[Update] Maps for: Alphabet Street, Babyland (Key Nursery), Child's Play [add], Hopscotch, Little Learners, Little Wonders, Tiny Home (Ladybird).
List of nurseries in Al Manara
Nursery name
Curriculum
Nursery fees
Reviews
Alphabet Street Nursery
UK
25,650-46,800
ASN reviews
Babyland Nursery Dubai
1981
Arabic,English,French,Lebanese
17,000-30,000
BND reviews
Childs Play Nursery
UK
20,250-33,360
CPN reviews
Hopscotch Nursery Dubai
September 2011
UK
16,800-28,800
HND reviews
Ladybird Nursery Umm Suqeim
UK
16,500-34,650
LNUS reviews
Little Learners Dubai
September 2008
UK
36,000
LLD reviews
Little Wonders Dubai
March 2006
UK
17,500-37,750
LWD reviews
Maple Bear Nursery Dubai
January 2015
Canadian, Arabic, French
MBND reviews
Potentiel Nursery Dubai
June 2014
Arabic, English, French
PND reviews
Last update 22 December 2014
Related pages
Related websites (new window)
Sponsored links
---